Staff
Akihisa MORI, Associate Professor
Home Page
Outline
  Global Ecological Economics have two basic disciplines :
(1) to clarify underlying economic, social and institutional factors that causes degradation of the environment and quality of life locally, nationally, regionally and globally
(2) to find out what kind of policy instruments, policy integration, financial and institutional arrangements are required to transform economic and industrial structure to advance sustainable development in the long term.
  In considering measures to counter the traditional economic challenges including poverty and depression, we need to take into account global environmental issues and the limits of global resources. This means that it is very important to clarify who should be responsible for promoting the development process and what kind of rule should be applied to this process in order to attain the quality of life needed for human society.
  We are just beginning to try to achieve a sustainable society which can assure the common global interest of citizens beyond the interest of nation states and enterprises. What is the sustainable society and what the world economic system which conserves the global environment and also realizes both intergenerational equity and North-South equity?
  If there is such a society, how can it be realized? Once it is realized, what kind of quality of life and what kind of lifestyle can we expect? These challenges are difficult to solve, but we are trying to do so, based on interdisciplinary research, including economics.
Major Topics of Research
Political Economy of Sustainable Development
Economic Development and Environmental Policy and Governance in Asia
Globalization, Climate Change and Global Environmental Policy
Environmental Aid and Harmonization/Diffusion of Environmental Policy and Technology
Regional Environmental and Economic Policies in East Asia
Energy, Environment and Climate Policy Integration
Environmental Fiscal Reform, Carbon and Energy Tax Reform
Financial Mechanism for Global Environment (CDM, PES, REDD)
Economics of Waste Management and Recycling
Doctoral Thesis
*A Study on Sustainability of Water Use and Management in Drought Areas, 2012
*The Effectiveness Evaluation of Urban Water Supply, 2010
*Environmental Stock and Creating Sustainable City, 2009
*Public Participation and Environmental Aid: Evaluating Projects in Thailand, 2008
*A Study on Circular Economy in China: Theory and Practice of Demonstration Projects, 2008
*Environmental Management System and Environmental Policy, 2007
*A Structural Reform of Energy Social Common Capital and Renewable Energy Policies, 2006
*Creating Sustainable City Through Policy Integration and Public Participation
Master Thesis
AY 2011
– Feed-in Tariff in Germany and Spain: Implications for Japan
– Estimating Marginal Cost of Reduction of Greenhouse Gas Emissions by Local Governments and Implication (J)
– A Study of Environmental Investment on the Securities Market
Co-Managementsystem of Common-Pool Resources on Kudaka Island (J)
AY 2010
– Current Status and Challenges of Eco-innovation Research: A Survey
– A Comparative Analysis of Sustainability of Biofuels in EU and US (J)
– Evaluation of the Project for the Improved Cook Stoves Diffusion in Cambodia (J)
– Roles and Perspectives of CDM in disseminating Biogas Micro Digesters to Chinese Farmers (J)
– Environmental Initiatives of Global Apparel Companies -Comparison between Swedish and Japanese Company -(J)
AY 2009
– An Inquiry into Waste Management for a Sustainable Society
– Institutional Change and the Institutional Economics of Environmental Change: Case Studies on the Pesticide Drift Pollution of Banana Plantation Communities in the Philippines
– Alternative Electricity Supply Options for Malaysia
– Administrative reform toward environmental policy Integration ‒comparative analysis of eco cities- (J)
– Policy Evaluationn of Top Runner Approach (J)
– Growth Potential of "Farming Method Cultivating White Storks"―Through Factor Analysis Causing the Gap between Theory and the Fact―(J)
– A study about the reduction of the domestic burning garbage by a burden of money returned to the residents' association In the case of Koka city, Shiga Prefecture, Japan (J)
AY 2008
– Comparative analysis of environmental provisions in Preferential Trade Agreements of the United States and the European Union
– Standardization of putative effect in external environmental accounting (J)
– Evaluation of The Preservation Policy for Historical Housing Area in the case of Imai Town (J)
– An Examination on the Risk Reduction Measures under the Current Renewable Portfolio Standard (J)
(J)implies Japanese language.
International Activities
East Asian Association of Environmental and Resource Economics
Seoul National University-Peking University-Kyoto University Environmental Workshop
Recent Internships
*United Nations Industrial Development Program, Tokyo Office
*Environmental Management and policy Institute, Tsinghua University, China
*Navdanya, India
*JICA
*Groupe Energies Renouvelables, Environnement et Solidarités, Cambodia
*Institute for Global Environmental Strategies
*Kyoto Municipality
*Japan Center for a Sustainable Economy and Society (JACSES)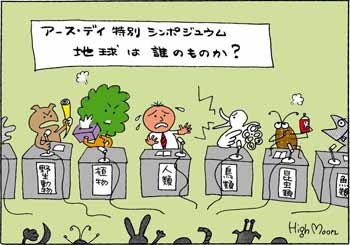 This picture asks'Whose earth is it?'
In other words, who decides and how do we decide
how to use common global environmental resources?