Staff
Wataru SANO, Professor
Ayako IWATANI, Associate Professor
This laboratory will help students to gain an understanding of environmental problems and their causes and examine public policies designed to solve these problems from the viewpoints of political science and cultural anthropology.
Humankind has hitherto been able to flexibly adapt to an ever-changing environment. However, a dramatic increase in both the productivity and consumption of human societies since the beginning of the modern era has imposed a tremendous load on the environment and resulted in disasters that humans lack the capacity to deal with. For example, as global capitalism expands and effective ways to protect the environment are being sought, what kind of changes have hunter and gatherers and commercial nomads, who have led their nomadic life while utilizing natural and human resources, been exposed to, and what risks have they faced? In order to consider complex environmental problems, we examine how various communities have adapted to environmental changes and have maintained their lifestyles over time from a cultural anthropology perspective.
Regarding environmental problems in developed countries, political as well as economic factors play a crucial role. Environmental policies are formulated based not only on differences in public attitudes to environmental issues but also on a range of political factors such as whether or not a country has environmentally-conscious political parties, how active environmental movements are, the degree of political influence agricultural lobby groups have, and the ranking of environmental ministries and agencies. We examine the political background of environmental problems from a political science perspective and environmental policies from the viewpoint of policy studies.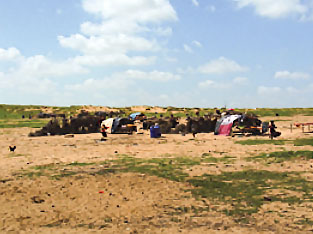 Camping Site of a Nomadic Community called Kalbeliya
(Rajasthan, India, Sep. 2011)