Objectives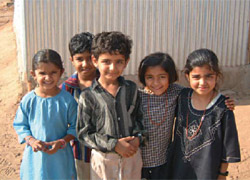 The Graduate School of Global Environmental Studies (GSGES) has established the International Environmental Management Program to strengthen educational and research opportunities for international students. GSGES offers a Doctoral Program in Global Environmental Studies for students interested in pursuing environmental research and academic study, and Master's and Doctoral Programs in Environmental Management for students interested in applied environmental management from the local to global levels. Students who join the International Program will be enrolled in one of these three degree programs.
GSGES features a multidisciplinary approach, with Japanese and international faculty drawn from a variety of disciplines, including engineering, agriculture, economics, law and social sciences. A cosmopolitan student body, all compulsory and many elective courses taught in English, and the chance to live and study in the ancient cultural capital of Kyoto, Japan, make GSGES highly attractive to international students.
Message from the Dean of GSGES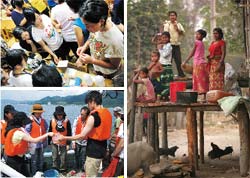 Our program appeals to students who are looking for all that defines Kyoto University - diverse and progressive education and innovation with a free spirit. The atmosphere of the university and the traditional Japanese city of Kyoto will also be attractive for international students and researchers who wish to conduct research related to environmental issues. The program has been successful in attracting highly qualified overseas students from Asia Pacific, Europe, North America and Latin America. We have established a place for students of all cultures to work cooperatively and across boundaries.
Contact
Administration office
Graduate School of Global Environmental Studies
Kyoto University
Yoshida Main Campus Research Bldg. No.5,
Yoshida-Honmachi, Sakyo-ku, Kyoto 606-8501, JAPAN
TEL: +81-75-753-9167 / FAX: +81-75-753-9187
E-mail: 160tikyukankyoumu*mail2.adm.kyoto-u.ac.jp (* Here please replace * with the @ mark.)
URL: http://www2.ges.kyoto-u.ac.jp/
Curriculum
Degree Programs
Doctoral Program in Global Environmental Studies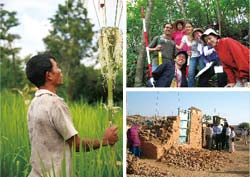 This program fosters researchers capable of applying innovative approaches to global and local environmental issues. Students acquire an international, multidisciplinary orientation that allows them to pursue advanced scholarship in environmental studies.
Doctoral Program in Environmental Management
This program fosters practically-minded program managers with international capability, advanced management expertise and the extensive knowledge and skills required to address environmental issues from the local to global level.
Master's Program in Environmental Management
Graduates of this program will be able to approach environmental problems as researchers, program managers or practitioners with an international perspective, practical skills and innovative techniques, informed by an interdisciplinary education.
Degree requirements can be fulfilled in English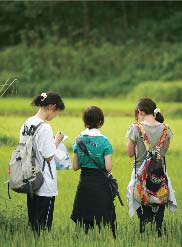 All students participate in internships and laboratory or fieldwork leading to completion of theses in their interest areas. Compulsory courses (for Master's students) and many core lecture and discussion courses are offered in English, as are many elective courses. They are supplemented by seminars and guest lectures by experts in related fields as well as a one-week group fieldwork course. Students may also take credited lecture courses in their fields of interest offered by cooperating graduate schools at Kyoto University.
Students are required to take four courses in the theoretical foundations of environmental studies for the Master's Program: Global environmental law and policy, global environmental economics, management of global resources and ecosystems, and environmental ethics and environmental education. Elective courses include environmental topics in ecology, engineering, health, humanities and communications, remote sensing, architecture, development, resource governance, human geography, policymaking and marketing. In addition, all students join in research-based seminars in their respective study areas.
Internships and Fieldwork
In order to hone advanced knowledge, experience and practical problem-solving skills that can be applied locally and internationally, all students are required to participate in internships of at least three months in duration. The Graduate School of Global Environmental Studies has agreements with a wide range of domestic and international institutions, including governmental research institutes, environmental NGOs, private research organizations, foreign universities and United Nations organizations, which currently serve as internship hosts. Many GSGES students, along with faculty, also engage in collaborative research projects with students and faculty from many universities in the Indochina region and in other parts of the world.
Recent internship hosts include:
United Nations Framework Convention for Climate Change, Bonn, Germany
Kyoto city government, Japan
Hue University of Forestry and Agriculture, Vietnam
UNESCO, Bangkok, Thailand
Development Bank of Japan
Private sector (engineering, consulting firms)
David Suzuki Foundation, Canada
United States Environmental Protection Agency
Prospective Students
Financial Aid and Student Support
Housing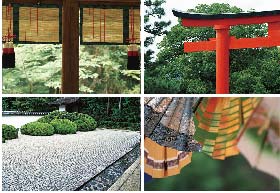 Students may apply to stay in one of the three International Houses at Kyoto University or the university's student dormitories. However, many international students choose to live in private apartments near to campus. Currently, rent for an unfurnished apartment averages from ¥25,000-30,000 per month for a single room with shared kitchen and toilet, and from ¥45,000 and up for a single room with private kitchen, toilet and bath. Private apartments may also require deposits, key money amounting to several months' rent and a suitable person to act as guarantor.
Tuition exemption
Depending on financial need and academic performance, students may be eligible for a full or half tuition waiver.
Scholarships
International students may apply for MEXT (Japanese Ministry of Education) scholarships through Japanese embassies abroad. Students may also apply for foreign government scholarships or a limited number of honors scholarships. In addition, students may be recommended for scholarships from private foundations after admission to Kyoto University. For more information on scholarships, please visit the Japan Student Services Organization (JASSO) website: http://www.jasso.go.jp/study_j/scholarships_e.html
Part-time work
International students are allowed to engage in part-time work, although some restrictions apply.
Comprehensive support
International students receive assistance from English-speaking office staff, Japanese student tutors in the first year, and free advisory services. They can engage in exchange activities through the international student lounge Ki-zu-na (http://www.kyoto-u.ac.jp/en/education/international/facilities/kizuna/).
Kyoto University also offers several levels of free Japanese language classes to all international students.