Introductory Video of GSGES
International students talk about their study in the Graduate School of Global Environmental Studies (GSGES).
VOICE 1
Suguru Jonokuchi
Master's Program, Environmental Infrastructure Engineering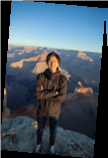 When I entered the Graduate School of Global Environmental Studies, I had two major expectations. The first was to study alongside people from a variety of backgrounds and nationalities. The second was to learn about global environmental issues in a way that transcended my own specialization, such as engineering, agriculture, and economics. These days, I feel that I am meeting these expectations every day. On the first point, I spent three months doing an internship at the University of California San Diego, researching my specialist field of ground environmental studies. I spent my days there on repeated trial-and-error approaches to my research, while debating with locals of different backgrounds. This was an invaluable experience that gave me insight into my own strengths and weaknesses. However, I believe that the appeal of the Graduate School of Global Environmental Studies does not just lie in its formal programs, such as these kinds of internship programs, the English-language course delivery, and the fieldwork opportunities. Rather, I feel that it is the people to be found in the School who are its greatest appeal. As my second expectation shows, the Graduate School of Global Environmental Studies is brimming with unique people of truly diverse nationalities, cultural backgrounds, and experiences. About half of the School's students are international students of different nationalities and cultural backgrounds. Moreover, the people in the School possess a broad range of knowledge that transcends the boundaries of the sciences and the humanities. There are way too many examples to list, such as the person who loves amphibians and will tell you anything you want to know about them, and the person who has been engaging seriously in renewable energy since their student days. Being able to spend every day with these kinds of people, all of whom respect each other, is extremely stimulating. For this reason, I believe that the Graduate School of Global Environmental Studies is the ideal place to aspire to become the kind of "practitioner with broad perspectives and high-level knowledge to tackle many complex global environmental problems" expounded in the School's philosophy.
VOICE 2
Shahar Lilia Griffin
Doctoral Program in Global Environmental Studies, Grobal Environmental Policy 
Studying in a different country could be quite challenging, but a well-known phrase says: "The magic happens when you step outside of your comfort zone".
When I came to know about the master program of Environmental Management in the GSGES, I knew I found the best program for me. I was attracted by the practical aspect of these studies, and the ultimate goal of the graduate school: to qualify future experts that would have positive impact on the health and sustainability of the global environment.
In the GSGES we study various courses regarding global environmental issues and sustainability in different fields: economics, engineering, and education along with other fields. Apart from studying in the classroom, we all also went out to the field, and saw in our own eyes what are we studying about. This combination of theoretical learning along with practical learning is productive, especially when dealing with environmental management. One thing I liked especially is meeting the local people when we went to the field. Hearing about the practices and rural culture of Japan was fascinating and authentic, as well as directly related to issues we have learned in class.
The professors in the GSGES are very helpful and welcome intelligent debates and personal consultations. The fact that our professors have both perspectives – the local and the global – and the fact that the fields of their research diverse greatly, gives us, the students, multiple perspectives to our own research. I think that our joint seminars and the comments I have received from the professors really improved my research.
Although studying and researching interesting topics is very fulfilling, it is very demanding as well: being a master student requires my classmates and me to study hard, spending much of our time in deepening our understanding in environmental related topics, and especially have a high self-discipline when conducting our research. In the time of our internships, we were operating independently in the field, and it was our obligation to make our best out of this experience.
Since the GSGES is quite a small graduate school compared to other Kyoto University graduate schools, there is a good sense of community, which makes it a nice place to work in. One more integral feature of the school is its international community: the students, and some of the teachers, come from different backgrounds and cultures, which makes the time together very enriching and educating. In that sense, it does not matter where you are from, since everybody contributes to the discussion of global environmental issues.
Indeed, challenges are not easy, but they always provide us benefits when overcoming them. Studying global environmental studies in a multicultural environment is looking one step ahead, as we aim to apply theoretical as well as practical solutions for the future society.