CASE1
Name: Lincoln Waweru Gathuka
Affiliation at that time: Master's Program in Environmetnal Management (Laboratory of Environmental Infrastructure Engineering)
Host institution: Nippon Koei Co., Ltd.
Country: Japan
During my master's program at GSGES, I experienced 3-months' life at Nippon Koei Co., Ltd. in Tsukuba, Japan. While at Nippon Koei I was engaged in a variety of ongoing research projects such as, water quality investigations and geotechnical characterization of construction materials, as I collaborated with the staff in laboratory experiments and field works. In addition, I participated in several in-company seminars where I received mentorship and training on key issues related to environmental sustainability in infrastructure development. My takeaway from Nippon Koei internship is never to be afraid of pursuing something out of your comfort zone; when I started my internship I was afraid of how it would turn out because of issues such as language barrier, and having to adapt to a new working environment, but it is incredible to have your contributions in projects and hard work pay off in an observable and tangible manner. Through the support and encouragement from the entire Nippon Koei staff, the internship at the end turned out to be a challenging but a great and unique learning experience.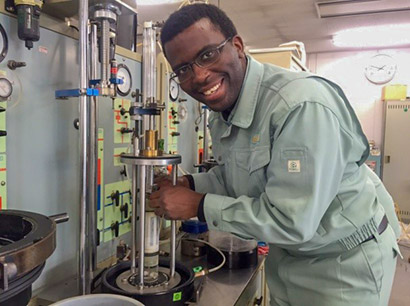 CASE2
Name: Chua Min Li
Affiliation at that time: Master's Program in Environmental Management (Laboratory of Environmentally-friendly Industries for Sustainable Development)
Host institutions: Japan Association of Drainage and Environment
Country: Bangladesh
My name is Chua Min Li, Master's student of GSGES, under Professor Shigeo FUJII's laboratory. With the research interest on sanitation issues in slum communities of developing countries, I was an intern of Japan Association of Drainage and Environment (JADE) in Bangladesh, particularly in Khulna city with additional technical support from Khulna University.
The work scope focused on daily activities among slum people that act as fecal transmission pathways contributing to diarrheal infection. In order to understand better of their living behaviours, videography and household interview surveys were conducted while microbial study was carried out by collecting Escherichia coli isolates from various potential fomites found in the living environment of the community, to investigate the main sources of diarrheal pathogens. I had also shared my findings in JADE's workshop to raise awareness among housewives in the same slum by showing videography data focusing on children's living behaviour associated with fecal contamination.
The worthwhile experience to work and stay in Bangladesh had broadened my life perspective and strongly enriched my knowledge, practical skills towards the research area of sanitation and public health. Aside from the academic point of view, the opportunity to get to know wonderful people and their culture personally there was simply sensational.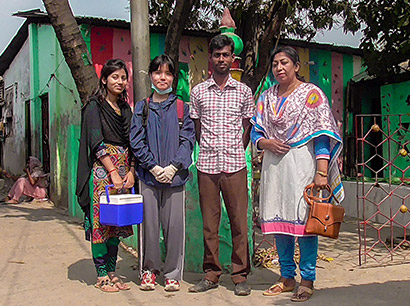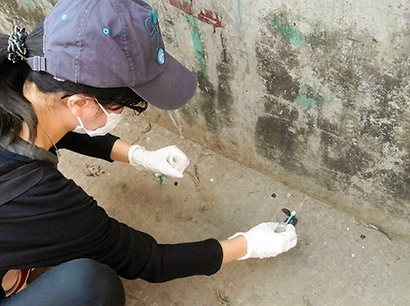 CASE3
Name: K.C. Sharda
Affiliation at that time: Master's Program in Environmental Management (Laboratory of Terrestrial Ecosystems Management)
Host institutions: Nippon International Cooperation for Community Development (NICCO)
Country: Japan
The lectures and seminars delivered in English and the internship program attracted me to join GSGES for my master's degree. GSGES provided an excellent way for holistic education that encourages one to purse his or her own goal. As a rule of GSGES, I completed 3 months internship at Nippon International Cooperation for Community Development (NICCO) at Kyoto, Japan with a theme of Eco-friendly Agriculture for Community Development. The NICCO was chosen as a host organization to understand its role in community development and livelihood improvement. During my internship, I got a chance to visit and work in the organic farm of NICCO at Shiga Prefecture and learn the technique of organic farming including winter flooded rice which was new technique for me. I learned the differences between convenient rice transplanting and winter flooded rice after the conversation with local farmers. I am always thankful to the internship program and NICCO itself for introducing me about the eco-san toilet which I decided to research during my master's program. At the time when I was not able to decide the research topic, the internship study really helped to achieve real experiences about the work and to get the idea for further research. I am very much thankful to the GSGES to make internship as a part of our study. The knowledge acquired during my master's course is also contributing to my doctoral course at GSGES.