Introductory Video of GSGES
International students talk about their study in the Graduate School of Global Environmental Studies (GSGES).
VOICE 1
Graduated from Master's Program (2017)
Tomohiro AOKI
Community-Reactivating Cooperator Squad (Minabe Town Hall )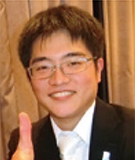 I entered the School of Global Environmental Studies with the idea of "I want to create a system that draws out the appeal of rural areas and increases their vitality!" In the Laboratory of Sustainable Rural Development, I learned methods for community building, and at the same time I was able to directly go to local communities in Japan and abroad and experience real community-building sites where specialized know-how was being applied. In particular, through the school's internship program, I stayed in a rural area and felt firsthand the conditions in the community from the perspective of its residents. Increasing the vitality of the local community requires that "industry (companies), academia (research institutes), government (national and local governments), and the people (local residents)" come together as one and work cooperatively, and I learned that the function of "intermediaries" is vital in order to coordinate that cooperation among them.
Since graduating from the school, I have been working as a member of the Community-Reactivating Cooperator Squad of Minabe, a town located in the Hidaka District of Wakayama Prefecture, building a model for a system that is based on cooperation among each constituent of the "industry-academia-government-people" partnership and that will lead to boosting the local community's vitality. I am proactively going to the site of community activities, interacting with the people from the town hall and from the community, and as I build trust with both sides, I am starting to fulfill that "intermediary" function between "government and people." Furthermore, along with regular consultations and interaction with people from research institutes at the School of Global Environmental Studies and elsewhere, I am starting to make progress on strengthening "academia-people" cooperation by carrying out activities aimed at getting advice from the perspective of experts. Step by step, I am getting closer to my objective of creating a "system to increase the vitality of the local community."
I believe the internship system that provided a firsthand feel for the atmosphere at the site and the group discussions that permitted debates which transcended the frameworks of "field, nationality, and teacher/student" have been extremely useful in allowing me to smoothly implement these types of community activities. The School of Global Environmental Studies is appealing in as much as you have the opportunity to interact with so many enthusiastic teachers and fellow classmates from Japan and abroad, and it is possible to gain broad-based, systematic knowledge and to take on the challenge of every sort of research field in Japan and abroad, which opens up limitless possibilities for your own future.
VOICE 2
Graduated from Master's Program (2009)
Takumi MIYAZAKI
Bank of Tokyo-Mitsubishi UFJ (temporarily transferred from Osaka Gas)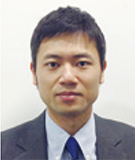 Since graduating from the School of Global Environmental Studies, I have been working for a gas company, handling the development of energy infrastructures such as domestic and foreign resources, as well as power plants. I have had the good fortune to have opportunities like being posted to our subsidiary in the UK and being temporarily transferred to a financial institution; and while it is hard work, I feel like I am pursuing a fulfilling career.
The two years I spent at the School of Global Environmental Studies unquestionably built my foundation. My interactions with international students at the school and the internship system that allowed me to work in a research laboratory at a British university gave me the opportunity to turn my attention to the world. Also, within the numerous unique programs, by studying hard together with my classmates who had diverse values and backgrounds, it made me realize how narrow my own perspective was. I feel that it has enabled me to persistently work to discover solutions when I have been placed in various environments.
Even now, I ask myself daily whether I am really embodying the ideals of the School of Global Environment, but the stimulation I received from my classmates as well as senior and junior fellow students who live earnestly without turning their back on their own beliefs still energizes me today. Global environmental issues are extremely difficult problems, but if you are thinking that you want to contribute to the solutions through your work, then by all means, I hope you will consider enrolling in the School of Global Environmental Studies.
VOICE 3
Graduated from Master's Program (2017)
IM SOPHANAVY
Cambodia-Japan Cooperation Center, Phnom Penh, Cambodia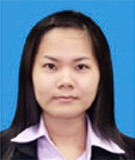 Life in Japan, as well as in my graduate school (GSGES) provides me many new experiences, and knowledges. I am impressed by GSGES program because of sharing opportunity, field trip, and internship program.
Students are allowed to share their knowledge and understanding through group discussions, presentations, and assignments. I have learned a lot from different kinds of presentations, such as presentation in graduate school, joint laboratory, and my own laboratory. In addition, my research topic was improved by the comments of professors and participants.
I am not only provided theoretical base, but also practical based program. Field trip to Tango is memorable experience to me to collect ocean creatures and to identify their ages; in addition, I have learned how to distinguish soil types and measure tree dimensions.
Internship is another interesting activity. I could build good networks with internship hosting institution, and I learned about the reality of working with Cambodian government institution. Besides assisting administrative staff to organize seminars and workshops, I took internship opportunity to do field survey to collect data for my thesis. To collect data, I have prepared questionnaire to interview community. Internship is a good opportunity to reach targeted community and access to data for my research topic.
GSGES has provided me a good opportunity to learn, improve, and share knowledge through presentations, field trips, and an internship. I am now working as a coordinator in Cambodia-Japan Cooperation Center (CJCC) in Phnom Penh Cambodia.
VOICE 4
Graduated from Master's Program (2012) and Doctoral Program (2016)
Mai KOBAYASHI
Researcher, Research Institute for Humanity and Nature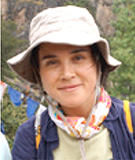 Having lived overseas for a long time, I wanted to study environmental issues in the Japanese context and under the guidance of teachers who emphasize practice. I did not want to live in Tokyo, and I looked forward to studying at a graduate school with an open environment like Sansai Gakurin (Grove of Universal Learning).
During my Master's Program at the school, I spent many days struggling to improve my rusty writing skills while working on my compulsory subjects. I had many opportunities in class and through joint projects to interact with my fellow classmates, and that generated a strong sense of camaraderie. It was also a time when I had the luxury of meeting lots of people from different cultural areas and learning a great deal from each individual's awareness of issues, different perceptions, and dreams.
As environmental issues become more serious with each passing year, the very fact that this is a cross-sectoral experiment with no predetermined answers to certain questions—such as what the issue is, how the threat should be understood, or how solutions should be shared—tested our communication skills as we tried to understand one another. I often had the feeling that the school's students, who came together with an eye to diversity and a sense of a need for integration, possessed a new type of imagination that was a bit diff erent from the teachers as well, who have produced exceptional results in the context of the traditional academic framework. This urgent new field requires an appropriate, flexible imagination.
I moved on to the Doctoral Program, and since graduating, I have been working as a project researcher at the Research Institute for Humanity and Nature, where I was fortunate enough to work as an intern during my Master's Program. There, I have continued my research on organic agriculture policy in Bhutan—a field that I was able to enter thanks to my work at the school—as well as on the future of sustainable food.