Keywords : Sustainability transition, climate-energy policy, environmental and climate aid and finance,
Staff
Akihisa MORI, Associate Professor
Home Page
Outline
   The 30 years of developments in environmental economics and policy studies proves it indispensible for socio-economic system to move toward the sustainable pathway, not to mention to technological and policy innovation and diffusion. In reality, however, socio-economic system, especially infrastructure is deeply embedded into the society, caught in a technological and institutional lock-in. Studies on strategic planning and reflective learning are required that enable niche innovations with sustainable technology to be a part of the regime, compete with the incumbent regime actors, and then dominate in the regime.
   Against this background, we Global Ecological Economics have made economic analysis of sustainability transition, with special attention to, but not limited to:
(a) Economics of transition to sustainable energy transport, agriculture and city
(b) Policies, institutions and financial mechanisms that advances sustainability transition
(c) International and domestic barriers that block sustainability transition
   Students have taken their preferred cases to make in-depth analyses.
   The Global Ecological Economics is also joining in the Research Unit for Development of Global Sustainability of Kyoto University.
Major Topics of Research
Governing transition for sustaible energy, transport, urban development and agriculture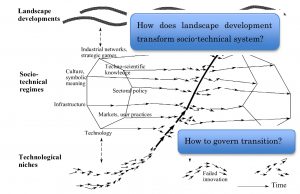 Multi-level perspective on sustainability transition
Source: Author complied based on Geels, FW. Technological transitions as evolutionary reconfiguration processes: a multi-level perspective and a case-study, Research Policy 31 (2002) 1257–1274.
Mutilateral and bilateral environmental and climate aid and financing
China's climate-energy policy and Belt and Road Initiative: Domestic and international impacts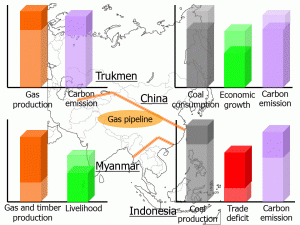 Global impacts of China's climate-energy policy
Source: Author.
Students' Achievements (2013-21)
Doctoral Thesis
*Rahman, SM. Co-benefits as an enabler of sustainable adaptation to climate change: the case of Bangladesh, 2021.
*Chen Yi-chun, Energy Transition in Taiwan: A Multi-level Perspective, 2019.
*Aoki, H., A Structural Analysis of Economic Processes by Monetary and "Energy Content" Values, 2019. (in Japanese)
*Dong L. Official Development Finance for Infra-System Transition towards Sustainability: Case of Kenya, 2018.
*Ogawa, Y. Economic Impact Brought by Energy Transition toward Renewable Energy ~ Multi-Level Quantitative Evaluation in Japan, 2018. (in Japanese)
*Kim, SY. Economic analysis of EPR policy in South Korea, 2015.
*Inasawa, I. Acceptability of Policy Measures for Sustainable Transport, 2014. (in Japanese)
*Tsai, PI, A Research on the Applicability of Multi-Criteria Analysis: Case Study of Water Resource Management Plan, 2014. (in Japanese)
*Numata, S. Local Government Policy toward Sustainable City, 2013. (in Japanese)
Master Thesis
*Reifenrath, BE, Why the plant breeding innovation system causes crop genetic erosion – A case study for Germany, 2020.
*Kato, Y. Widespread diffusion of electric buses in Japan : Analysis from the perspective of transition theory, 2020.(in Japanese)
*Ghosal, RD. Regime resistance in sustainability transitions: The case of a plant-based diet in the US, 2019.
*Pich, R. The dynamics of sustainability transition in developing country: Case study of large hydropower development in Cambodia, 2019.
*Saculsan, PGJ, An Interplay between Structural Change and Power Relation in the Energy Transition in the Philippines, 2018.
*Kashimura, H. Social Acceptability at Wind Power Development Project Sites, 2017.(in Japanese)
*Im, S. Effectiveness of Multilateral Funding for Climate Change Adaptation in Cambodia, 2017.
*Niimi, Y. Country Ownership and Private Sector Engagement in Multilateral Environmental Financial Mechanism- Case of Green Climate Fund (GCF) and Global Environmental Facility (GEF), 2017.
*Okumura, M. Agricultural crop production in cadmium contaminated areas in Thailand, 2017.(in Japanese)
*Kono, Y. Using Nudge in Energy Conservation at Office Environment, 2016.(in Japanese)
*Lu F. Deregulation, Electricity Sector Reform and Wind Power Development- A Case of European Union, 2016.(in Japanese)
*Ogawa, Y. Economic and Environmental Impacts of a Change in Energy Mix: An Scenario Analysis based on the Extended Input-Output Analysis, 2015.
*Tokito, M. Analysis of State of livelihood and Structure in Katou Village in Central Vietnam, 2015.
*Zhang ZY. Decomposition and econometric analysis of the changes in China's industrial carbon emission over 2005-2011— discussing China's first efforts on industrial carbon emission mitigation, 2015.
*Ioki, T. Economic Feasibility of Geothermal Power: An Input-Output Analysis, 2014.
*Ono, G. Economic Impacts o Renewable Energy: An Input-Output Analysis, 2014.
*Chen, YC. Leapfrogging in Power Generation Technology: Case Studies of China and India, 2014.
*Mikirigri, A. Effect of Settlement Policy as a Countermeasure to the Overgrazing in Xingjian Uygur Autonomous Region in China, 2014.
*Kawamoto, Y. Industrial Use of Underground Water and Economic Development, 2013.
*Waki, M. Measuring Local Development with Integrated Indictors: Social, Happiness, and Sustainability Index, 2013.
Publication in journals and book chapters
2020
*Ogura, Y. Policy as a "porter" of RE component export or import? Evidence from PV/wind energy in OECD and BRICS, Energy Economics 86, 104630.
*Saculsan PG, Mori A. Why developing countries go through an unsustainable energy transition pathway? The case of the Philippines from a political economic perspective. Journal of Sustainability Research 2(2): 1-24. https://doi.org/10.20900/jsr20200012.
*Ramadhan, R., Mori, A. and Oekan S. Abdoellah, Shifting cultivation or oil palm plantation? Integrated assessment of land use change in Dusun Tonggong, Parindu, West Kalimantan Indonesia, International Journal of Sustainable Future for Human Security 7(1): 11-7, http://www.j-sustain.com/files/pub/file/2020/Vol%207%20No%201/J-SustaiN_Vol7_No1_11-17-Rizky.pdf.
2019
*Aoki, H. and N. Kawamiya, 2019. The Business Structure of Japan's Electric Industry for 1963-2016: Analysis on the Revenues and Expenditures throughout before and after the "Deregulation", International Journal of Energy Economics and Policy 9 (1): 316-25.
2018
*Chen, YC. 2018. Taiwan' s Nuclear Power Phase-out Decision-Making Process During the Energy Transition Pathway: From a Multi-level Perspective, 環境情報科学論文集 32: 55-60.
*Chen, YC. 2018. A Prescription for Energy Transition? An Analysis of the 2017 Electricity Market Reform in Taiwan, International Public Economy Studies 29: 6-25.
*Mori, A. and L. Dong, 2018. Impact of the resource boom in the 2000s on Asian-Pacific energy exporting countries, Mori, A. (ed.) China's Climate-Energy Policy: Domestic and International Impacts, Oxon: Routledge, 123-53.
*Saculsan, PGJ, 2018. What can the Philippines learn from Thailand`s ENCON Fund in overcoming the barriers to developing renewable energy resources, Journal of Clean Energy Technologies 6 (4): 278-83.
*Aoki, H. and N. Kawamiya, 2018. End Game for Japan's Construction State – The Linear, The Asia-Pacific Journal | Japan Focus 15/12/5: 1-12.
*Dong, L. and A. Mori, 2018. China and Aid Co-ordination: Feasibilities of Trilateral Co-operation on Geothermal Financing in Kenya, Journal of International Development Studies 26 (2): 83-97.
2017
*Dong, L. and A. Mori, 2017. Multi-Level analysis of sustainable energy transition in Kenya: Role of exogenous actors, International Journal of Energy Economics and Policy 7(5): 111-22.
2016
*Dong, L. 2016. Environmental and social risks of Chinese Official Development Finance in Africa: The case of the Lamu Port project, Kenya, African Review of Economics and Finance 8(1): 106-29.
*Barker, T., E. Alexandri, JF Mercure, Y. Ogawa and H. Pollitt, 2016. GDP and employment effects of policies to close the 2020 emissions gap, Climate Policy 16(4): 393-414.
*Ogawa, Y., JF Mercurei, SC Lee, H. Pollitt, 2016. Modeling the power sectors in East Asia – The choice of power sources, in: Lee, SC, H. Pollitt, and SJ Park (eds.), Low-carbon, Sustainable Future in East Asia, Oxon: Routledge, 45-62.
*Ogawa, Y., JF Mercurei, SC Lee, H. Pollitt, K. Matsumoto, and A. Chiashi, 2016. Modelling the power sector in East Asia: Economic and environmentalimpacts by choices of power sources, in: Lee, SC, H. Pollitt, and SJ Park (eds.), Low-carbon, Sustainable Future in East Asia, Oxon: Routledge, 63-72.
2015
*Cahyandito, MF and R. Ramadhan, 2015. Is converting shrub land to palm oil plantation worth it? – An ecosystem services analysis, Journal of Business and Retail Management Research 3(3): 77-86.
*Ogura, Y. and A. Mori, 2015. Changes in trade and economic structure during the past 25 years, Have green growth, low-carbon strategies made a significant impact in Northeast Asia?, in : Yoshida F. and A. Mori  (eds.), Green Growth and Low Carbon Development in East Asia, Oxon: Routledge, 113-36.
*Kim, SY. and A. Mori, 2015. International recycling by South Korea in the context of green growth, in : Yoshida F. and A. Mori  (eds.), Green Growth and Low Carbon Development in East Asia, Oxon: Routledge, 192-224.
*Kim, SY. and A. Mori, 2015. Revisiting the extended producer responsibility program for metal packaging in South Korea, Waste Management 39: 314-20.
2014
*Mito, T., 2014. Ongoing efforts of asbestos eradication in Rwanda, Sky Journal of Soil Science and Environmental Management  3(8): 78-82.
International Activities
Asian Association of Environmental and Resource Economics
Recent Internships
Renewable Energy Institute
PricewaterhouseCoopers (PwC)
European University Saint Petersburg
PT Gagas Dinamiga Aksenta (Indonesia)
The NGO Forum of Cambodia
Chulalonkorn University
Philippines Department of Energy
Institute for Sustainable Energy Policies (ISEP)
UNDP Indonesia Office
Chiang Mai University
Cambodian Ministry of Environment University
Padjadjaran University (UNPAD, Indonesia)
Central Reserach Institute of Electric Power Industry