The International Autumn School 2019 had been conducted under the area of Environmental Studies in a program of "Japan Gateway: Kyoto University Top Global Program (JGP)" for 18 days (November 17th to December 4th, 2019). This program is a part of the international joint education with world-class partner universities prominent in environmental studies. The program was designed and organized by Graduate School of Global Environmental Studies.  The program was conducted with selected 12 students from collaborative universities in Europe, Asia, Africa and Oceania with 19 Kyoto University students (included partial participants).
The program began by sharing information about main topics in this autumn school; forestry and forest resource management, waste management, water treatment, agriculture, natural disasters, and atmospheric environment in each  participants' country of origin through the country-specific topics  with the perspective on "culture underlying the environmental problems". After learning about the current issues for these topics in participants' home countries, participants took special lecture series related to these topics, and experienced and deepen their understanding about issues in Japan via field excursions and field lectures. In atmospheric environment, student attended special seminar with guest lecturer from Lille University to learn and conduct experiment about atmospheric chemistry.
During the program, participants actively conducted group discussion about Japan, such as, advantages in water treatment technologies, implementation of policy, ordinance, and regulation for pollution, intangible/social actions for disaster mitigation and preparedness, developed public transportation, and environmental sciences for monitoring, and its technologies transfer. On the other hand, participants pointed out some negative points/discrepancies of current Japanese/Kyoto society, like low environmental awareness as consumer seen as excessive packaging and single use items/goods in mass-production & mass-consumption, low ratio of my bottle, accepting restaurants/services using single use items/goods restaurants, and lower environmental consciousness in producers and sellers, even in the compact city, like Kyoto, having a traditional knowledges of livelihoods caring the environment with sophisticated culture.
Participants also attended and presented their researches at "Kyoto University International Symposium on Education and Research in Global Environmental Studies in Asia (Nov. 26th 2019)"and 2 participants won the young researcher's poster presentation award.
At the end, participants made presentations on the current achievements and challenges of each country in main topics by integrating what they had learned throughout the program. The final presentation and following discussion varied in global, regional and individual perspectives with careful thought in reality in local situation in each country. Topics were also diversified in engineering, social, and political/national and international matters.
With active participation from students with great support and program arrangement by young lecturers and stuff of GSGES, the program was smooth and well organized with meaningful discussions and providing unforgettable experiences, knowledges and memories for all. We expected this experience prompt to develop environmental studies and international collaborations and wish to keep building up our environmental sound sustainable society in near future.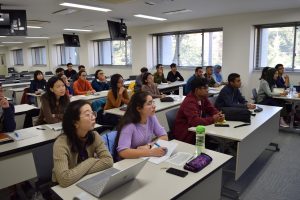 Special  lecture series of GSGES Autumn School 2019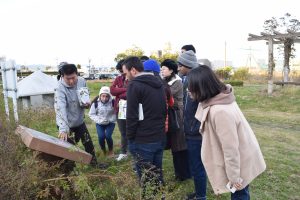 Field lecture about disaster mitigation and preparedness in Wakayama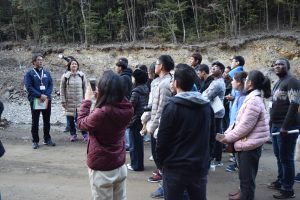 Field excursion about water treatment system in Shiga
Poster presentation at International Symposium, Kyoto University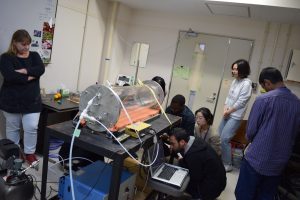 Atmospheric environmental chemistry seminar in Yoshida campus